Regular contributor
mecha-neko
puts his life on the line to bring you another
FPS Friday
.
Another friday, another FPS.
This one's got
a half-decent 80's style illustration
(Mobygames link) on the box rather than some lousy rendered thing, so I'm looking forward to seeing what this game looks like.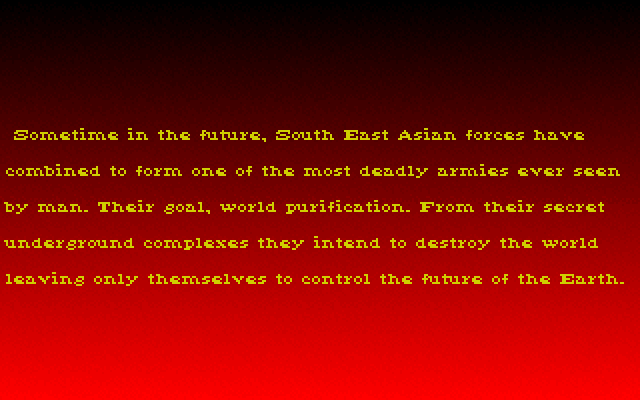 Ye gods, is that hard to read. Here's what it says:
Sometime in the future, South East Asian forces have combined to form one of the most deadly armies ever seen by man. Their goal, world purification. From their secret underground complexes they intend to destroy the world leaving only themselves to control the future of the Earth.
Wait, they want to
destroy the world
? I hope they're not being literal, because destroying the world is a really bad idea, especially if you're ON it at the time.
These red screens continue on to say that I was sent into some complex to retrieve some secret information, but I've been CAPTURED! OH NO! Still, only I
can stop the twisted plot and save the people of the Earth from a holocaust, the like of which the world has never seen.
But I'm captured! What am I supposed to do?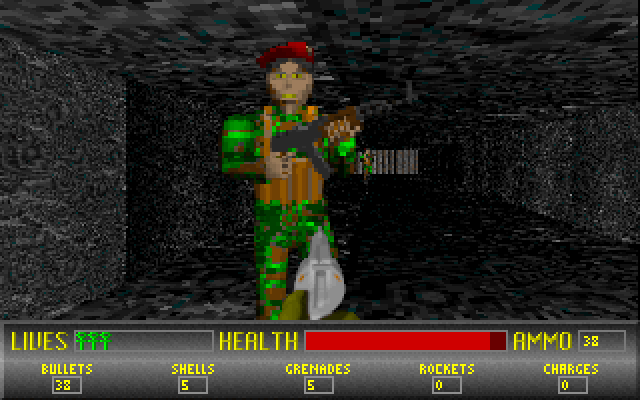 Gah! I'm not captured at all! I'm just standing in a corridor getting shot by this soldier! Did the game just omit the sequence where I escaped... I assume I escaped...? Is any of this real?
I've got a gun and he's shooting me. That's what's real.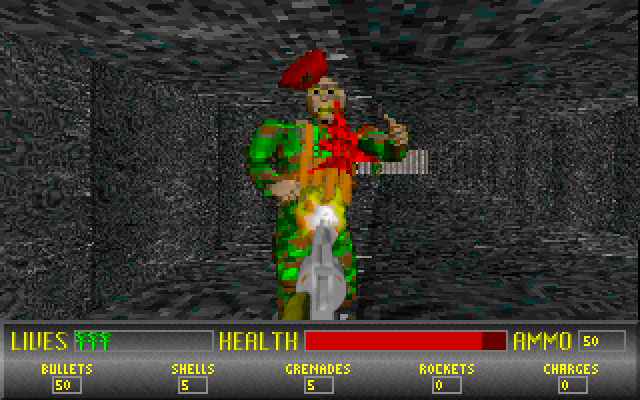 Don't look so damn shocked.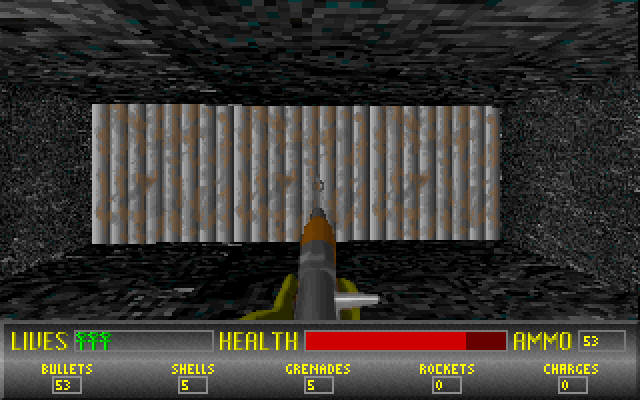 Okay, I'm in a small rectangular room. Maybe I
was
captured after all? And they gave me a gun so I had a sporting chance... and locked two other people in with me so we could shoot it out for their sport? Sick bastards!
If this is a door, it's not opening no matter what buttons I press.
Is anybody else overwhelmed by how absolutely awful this game looks, by the way? This is a real game. Maybe it looks so bad because I'm in a grotty cave level.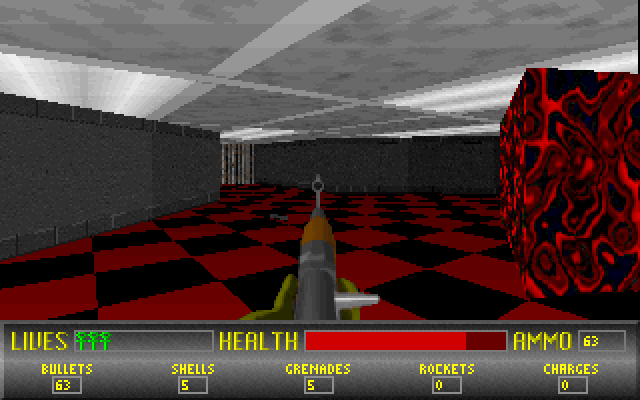 I solved the door problem. I walked straight through it as if it weren't there at all. Of all the people to try and capture, they captured the guy who can walk through walls. Better luck next time, eh?
And what the hell is up the colours in THIS room? I think we're experiencing technical difficulties. Please stand by.
Nope, I checked the back of the box. This room is supposed have a red and black plasma column in the middle of it. This is the game that comes inside the box with that picture on it. Madness.
Now that I know that I can walk through that kind of wall, I'm able to go through that far door and explore further.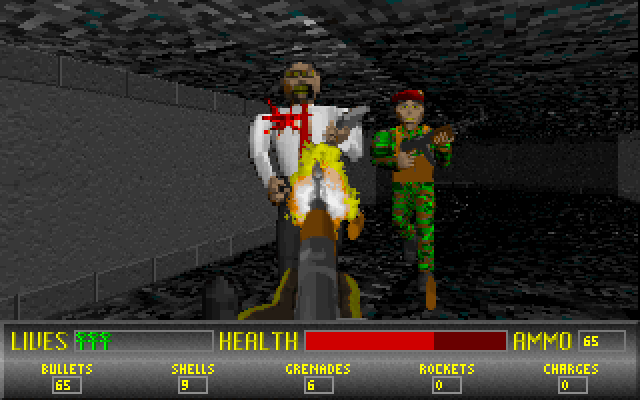 Oh crap! What were you doing just standing there?! I hope that wasn't a hostage!
Nope, just a guy in a shirt who also wants to shoot me.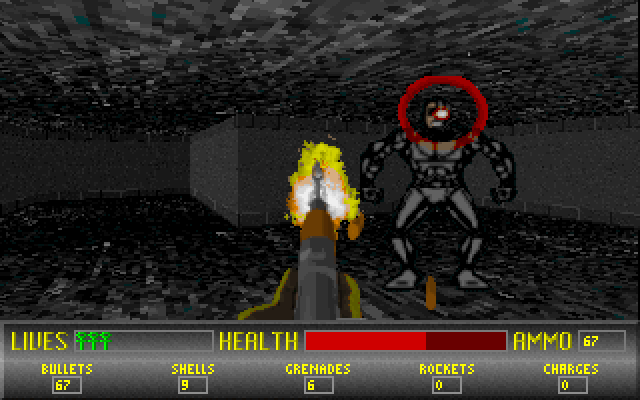 It's a cyborg. A badly drawn cyborg. He's lasering me with his laser eyes.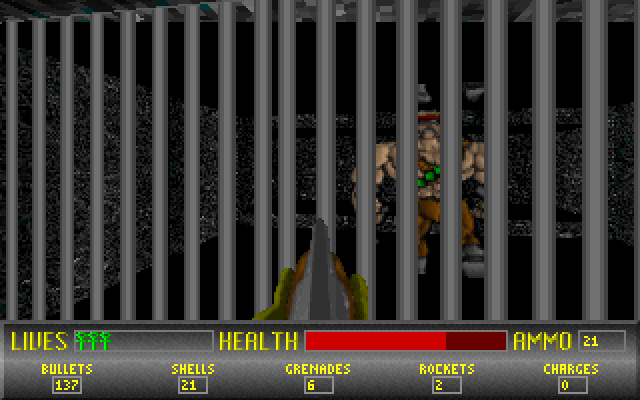 Now
this
guy's been captured. You can tell because he's stuck in a cell and he doesn't have a gun. Unfortunately for him, it doesn't seem that I can free him right now. Sorry, pal.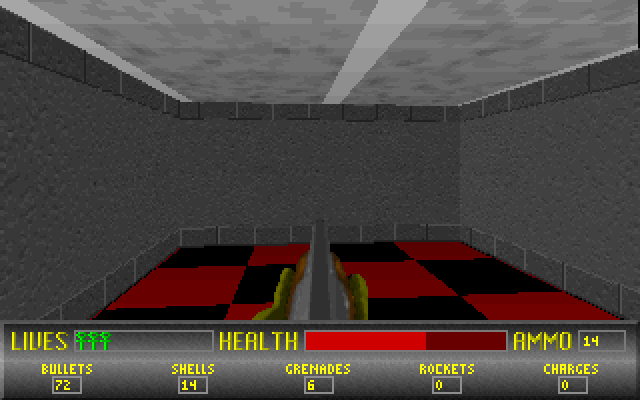 You see this wall? It's actually one of those walls you can walk through. Now I have go around sliding against every surface just to find which way to go. I thought I was through with that nonsense after
The Catacomb Abyss 3D
. Good grief.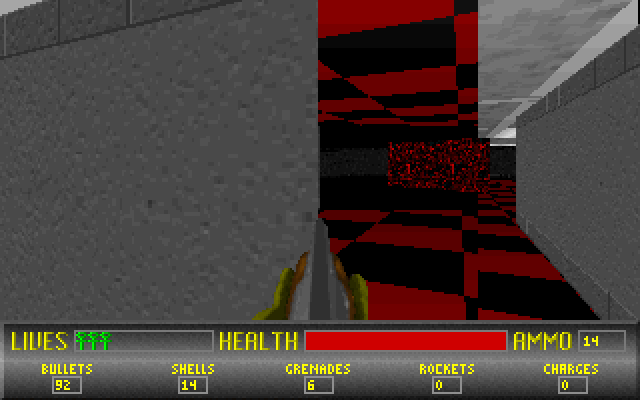 Look like the programmers weren't so good at the old collision detection on them there diagonal walls... By brushing up against one I've been forced out into the void outside the level. I'll remember how to do this in case I come across any locked doors, but for now I'm going to try and find a way back into the level properly.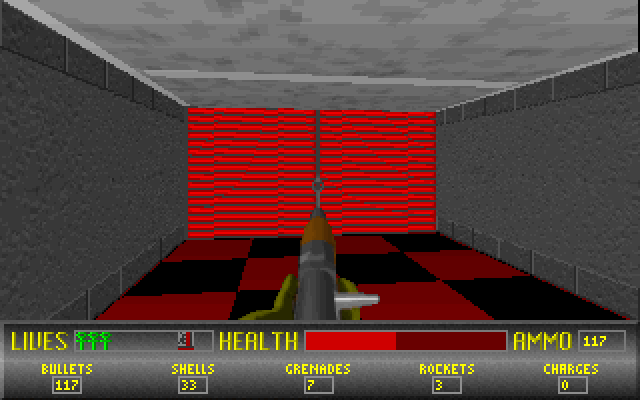 Here's a wall that I can't walk through. FPS conventions dictate that its red colour means that it's either that it's simply 'locked', or that I can open it if I find the red keycard.
After doing a lap of the level (and unsuccessfully trying to sneak into the room by slipping outside the level temporarily), I managed to open the door by pressing Space on it. That's completely different to all the other wall/doors I've encountered, and I'm
certain
that I pressed every button on it when I first saw it.
It's possible that it only can only be opened once I've killed every enemy on the level. Could the game be that cruel? Nope, I'd just missed the keycard. Not every item is placed on a shining pedestal like in
Doom
, so I didn't notice when I picked it up. I thought that red thing on the interface on the 'Lives' counter was a glitch.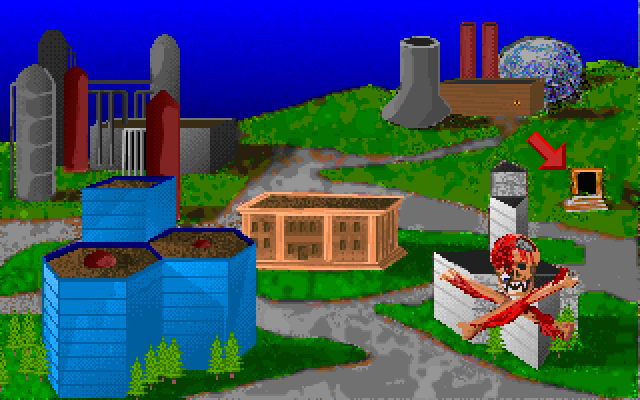 True class.
Now I have to win a level from each of the other episodes (yes, there are three episodes, just like papa
Doom
) to see the other zone pictures. BRB.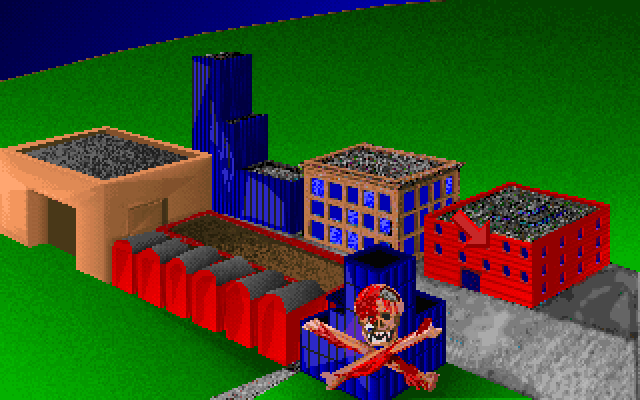 Tee hee.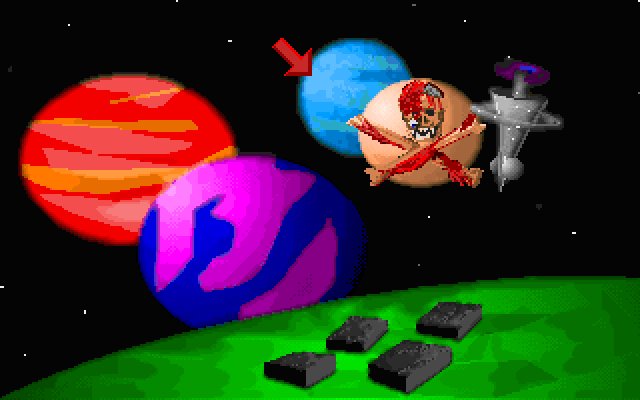 Oh come on, you'd have stopped reading in a huff already if you thought I wasn't going to laugh at silly pictures.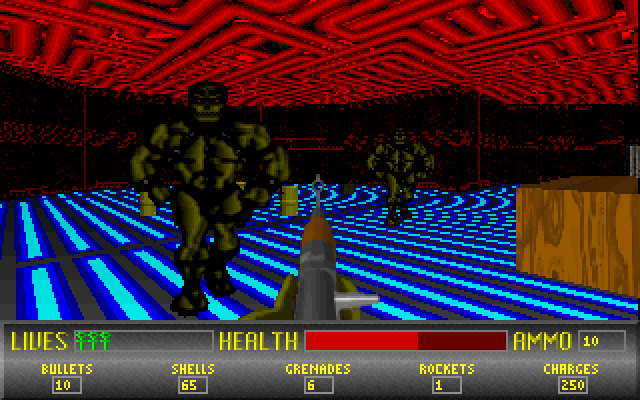 By all rights, this game should be an affront to everybody and everything. But, thinking back on it, the guns were nice and loud and there was an easy to read map. The enemies died when I shot them, and they didn't teleport in constantly whenever I picked anything up. The levels were huge, non-linear and had all kinds of interesting shapes. They sure as hell weren't pitch black. There wasn't recharging health, so I had to watch myself constantly. There wasn't a cover system and there wasn't any auto aim screwing up my shots. I could load and save at any time. The only bad thing about this game is that it's so... stupid.
As an FPS rooted in any sort of reality, it's a total failure. If you let yourself be drawn into its idiotic, psychedelic world, you'll enjoy the hell out of it. The best bits of all your favourite 90s first person shooters are there in full, waiting to be found. I simply couldn't help but be charmed by its endearing feebleness. It's like it was designed and programmed by a 4 year old, except they actually had the persistence to create a full three episode game out of it.
Still, I can't help but feeling that I've been had by that box illustration.