BETWEEN THE FALL OF THE ANCIENT STAR LEAGUE AND THE RISE OF THE HEIRS OF STEINER-DAVION THERE LIVED AN AGE OF WAR UNLIKE ANY BEFORE OR SINCE. FIVE GREAT HOUSES STRUGGLED FIERCELY FOR SOLE POSSESSION OF THE INNER SPHERE OF MAN. ACROSS THIS TROUBLED STARSCAPE MARCHED MIGHTY MACHINES OF WAR LIKE TITANS THROUGH A GREAT STORM OF FIRE.
IT WAS A TIME OF HIGH ADVENTURE...
Check out that box!
Oh yeah, it's stompin' robots time! (external link)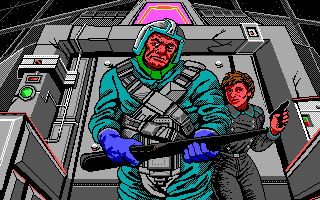 Suddenly, a fat guy in a blue spacesuit bursts in through the airlock!
"TAKE THIS SNOOKER CUE", he yells, "THE FUTURE OF THE GALAXY DEPENDS ON IT.".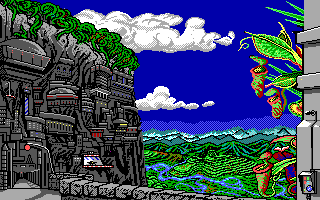 But anyway.
This is a first person shooting robots game by Dynamix (1989) for MS-DOS, the makers of
David Wolf: Secret Agent
, the very first game I did ever play for this site, two years ago! How's that for a coincidence?
This game is based on the MechWarrior tabletop role-playing game set in the BattleTech universe. I'm not too familiar with it, but here's a future history lesson nevertheless.
By the 31st century, mankind has colonised a vast area of space surrounding the Earth, now known as the Inner Sphere. As its reach expanded, the centralised government of the age, responsible for an age of peace and prosperity, began to weaken significantly. Many ambitious forces saw an opportunity to seize this power and wealth for themselves, culminating in an unimaginably vast war consuming nearly all colonised space. With the advanced technologies and manufacturing capabilities all but destroyed or forgotten, the Inner Sphere fractured into a number of territories, each under the control of a feudal House. Their uneasy co-existence was further thrown into disarray when the Clans, a large loosely affiliated force, returned to the Inner Sphere from outside and waged war in the hope of re-establishing central governance. The invasion didn't work exactly as planned, leaving the Inner Sphere full of very weary and very bitter people. The great wars themselves are over, but solving problems by shooting people you don't like never goes out of style, and stompin' robots are a great way to do it.
At least, I think that's what's happening. It's not mentioned in the game, but it is in the manual. You can read about it on the
BattleTech wiki
(external link), if you like reading detailed descriptions of fictional historical future events or neat illustrations of robots.
It is the year 3024 and I play Gideon Braver Vandenburg of Ander's Moon. Ander's Moon is a planet whose leadership alternates between two rival clans, Clan Vandenburg and Clan McBrin. While Gideon was out shopping for sausages, a mercenary force led by Clan McBrin ransacked Gideon's castle, murdered all his dudes and framed him for it. And that made him sad.
Or as the game puts it:
BURNING PURPOSE. ETCHED FOREVER IN THE MIND AS SLOW CURVES PULLED UPWARD INTO SPIKES. DARK WINGS FRAMING AN ALMOST HUMAN DEATH SKULL. ALMOST, BUT FOR THE FANGS OF THE BEAST. A CREST FOR KILLERS. FIND IT AND YOU FIND THE CHALICE, AND THE DARK WING.
My mission: retrieve the Chalice of Herne, a relic symbolising the dukedomship of Ander's Moon, proving my innocence and asserting my birthright as King of the World, and kick all kinds of McBrin butt along the way. I must follow the single clue I have available to me: the enemy mercenary mechs had EVIL SKULLS painted on their robots. Really narrows it down, right?
And I have a time limit.
ONLY FIVE YEARS REMAIN.
There's cryptic, unmarked icons running up either side of the screen. We've got a capital A that's on fire, a giant robot, a sword in front of a sunburst, a big mechanical egg, a hand holding a test-tube and a symmetrical MW logo.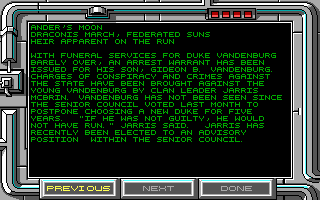 Uh oh! This sounds bad! An arrest warrant's been issued for 'Gideon B. Vandenburg'! And that's me!
Gideon's decided to lie low. He's assumed a new name. No longer is he to be known as 'Gideon Braver Vandenburg' of the legendary Vandenburg line, previously second in line for the throne of whateverspace (and now wanted felon).
Instead, he's now exists only in shadow and rumour as the ruthless mercenary... 'Gideon Braver'. Not the sharpest knife in the drawer, our Gideon.
As part of his new identity, Gideon has formed a new freelance private military force, the 'Blazing Aces', to fund his quest for justice. So far, the 'Blazing Aces' consists of... Gideon. And that's it.
The icon showing a test tube was the bar? I thought it was 'Research'.
Everybody drinks out of test tubes in the future, I suppose.
PIRATES THAT FLY A SKULL AN' WINGS MARKER? NO, CAN'T SAY AS I'VE EVER HEARD OF THAT. THOUGH, THE GRAY DEATH LEGION FLYS A SKULL, BUT THEY'RE NOT PIRATES, JUST REGULAR MERCS. 'COURSE THAT DEPENDS ON WHO YOU'RE ASKIN'. DUKE RICOL MIGHT NOT THINK TO HIGHLY OF THEM THESE DAYS.
Duke Ricol? Where can I find him? Not gonna tell me? Okay. Nice laser gun you've got back there, by the way.
And when I leave and re-enter the bar, he's got a different rumour for me.
NOPE, DON'T KNOW OF ANY SKULL AND WINGS CREST, BUT IF IT'S A PIRATE CREST USED IN THE KURITA-DEVION AREA, THERE'S ONE MAN WHO'LL KNOW FOR SURE - GRIG GRIEZ. 'COURSE ASKING HIM ABOUT IT MAY BE THE LAST THING A BODY DOES.
This isn't helpful. Let's go to the robot menu instead...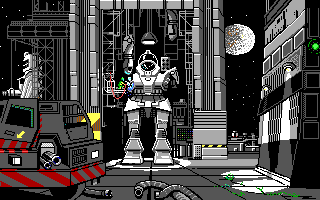 Here we are in the Mech workshop. Before I can get my bearings, I'm waylaid by a screenful of text!
A WEATHERED OLD TECH BY THE NAME OF GARRET IS WILLING TO TALK ABOUT UNIT CRESTS ALL DAY FOR A 10 C-BILL BOTTLE OF TSINGHAI BRANDY. "YEA, THE GRAY DEATH'S GOT A SKULL, BUT SO DOES HANSEN'S ROUGHRIDERS, AND NARTHAL'S RADIER'S GOT SOMETHIN' THAT MIGHT LOOK LIKE A SKULL WITH WINGS. IT'S SUPPOSED TO BE A BULL SKULL THOUGH, WITH BIG HORNS. NOW, PIRATES... HERMAR VALASEX, HE'S A FULL ON PIRATE KING AN' HE FLYS A SKULL BUT IT'S GOT CROSSED SWORDS BEHIND IT NOT WINGS, AN' HE'S CLEAR OUT COREWARD OF THE COMBINE, WHERE IT MEETS STEINER.
Didn't expect that at all; I accidentally clicked past it the first time and had to restart the game to read it.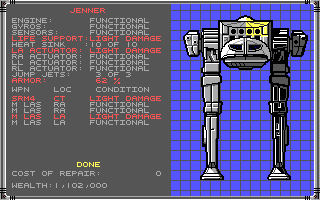 When Gideon was vamoosing out of Vandenburg land, he couldn't take any of his family's nifty 'bots with him. A loyal family contact has offered Gideon a lifeline in the form of a slightly rusty Jenner. It's only 300 years old, give or take. They were only gonna use it as a 30ft coffee table otherwise. (Perhaps the namesake of Chris Jenner from

Metal Gear Solid

?)

TYPE:

JENNER

CONDITIONAL:

FUNCTIONAL

WEIGHT:

35

TONS SPEED:

118

KPH JUMP CAP:

150

M AMMO:

SRM 4-PKS: 13

(SRM is a Short Range Missile, according to the glossary in the manual.)

I can repair all the damaged bits for 85,000 credits. No problem for a desperate, down-and-out millionaire like myself.

Wait...

millionaire

? When Gideon was exiled from the Clan hall, did he sneak out the frickin' Crown Jewels or something?

"Vandenburg! I told you never to show your face at the Hall again! Where are you going with that big sack of platinum-plated gold bricks?"

"How dare you! This is not a bag of platinum-plated gold bricks! This is... my cuddly toy. I can't bear to be without it."

*scrapes bag across the ground*
Let's check out some of the other stompin' ruhbots I can get on this planet.
Here's
PHOENIX HAWK
. I can't really tell whether he's better or worse than Jenner. A smuggled out sack of platinum-plated gold bricks doesn't get you very far in this mercenary world full of mercenaries: he's yours for the low price of 3.3 million bizingas! And that's before the seven hundred thousand repair cost and ammo refill.
For the even richer merc, you can get
SHADOW HAWK
for 4.5 million. He's got missiles coming out the wazoo (possibly literally).
I decided not to repair Jenner and see if I had the rocks to take on my first mission in the bot's current state.
This starting planet is ruled by House Davion, in case you hadn't guessed. Let's see what dirty work they have for me.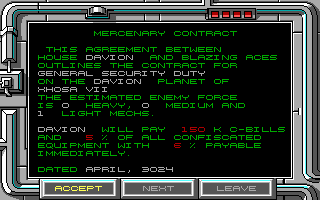 'General security duty'?
Sounds simple enough. If I can't take on one light mech, I'm in serious trouble.
YOUR CONTRACT IS ACCEPTED.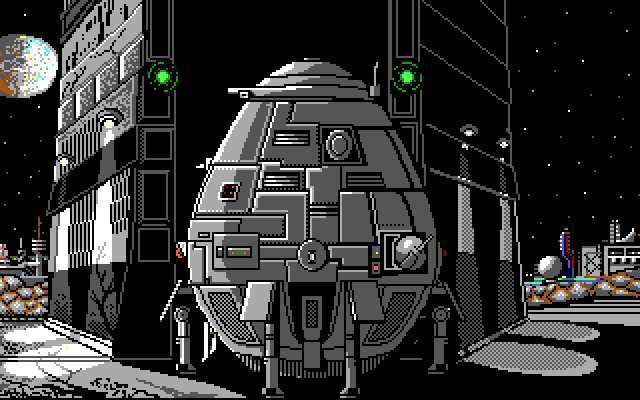 WHOOOOOOSH. It doesn't really make a sound so I have to wave my arms about and make my own. WHOOOOOOOOOOOSH.
And we're off to adventure.
Finally! Some first-person robot shooting action! Let's crank this thing up to maximum stomp and get the heck outta here!
DOOP. DOOP. DOOP. Me stompin' robot is a doopin', and he's a-doopin' for YOU. I like how the camera bobs up and down as I walk.
Everything seems to be going smoothly so far. There's loads of controls spread out all over the keyboard, as if this mech was some kind of 'complex' 'machine'.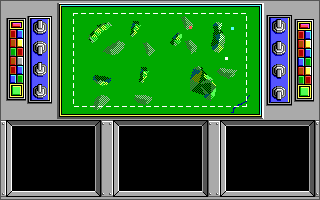 Somewhere around here is the bad guy. I think he's the red dot.
I'm definitely the white dot because I'm moving and the game isn't paused while I'm on the command screen. I must be defending the blue dot.
Enemy mech located! No, wait, come back! Argh! He's just ran right past me!
This thing controls like a car, so he's long gone. Jenner's got a swivelling head, but it can't quite reach this far. Nuts!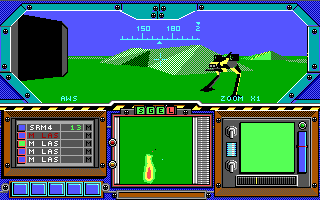 There's no way I'm letting you destroy my obelisk, you nasty, well animated, wasp-coloured walkermatic.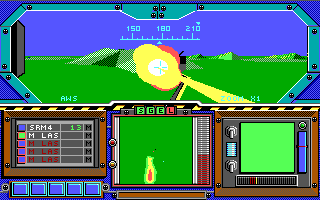 WEOOOOOOOOOOO!
A hammering of the Space bar cycles through Jenner's four Medium Lasers and the enemy walker is reduced to a smouldering wreck.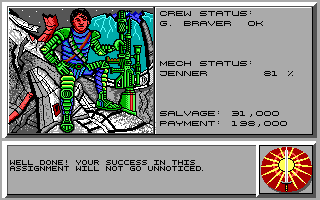 Victorious fanfare!
There's no music on the hub screen or the battles, but they have a victory fanfare? How strange.
The encounter has enhanced my reputation with House Davion to
POSITIVE
, but decreased my reputation with House Kurita to
NEGATIVE
. Write that down.
Time to check the news. Maybe there's been a development about these pirates.
Aw, thanks for the birthday card guys.
Wait, I'm undercover! You shouldn't send undercover fugitives birthday cards!
Time for another mission.
"You may encounter 1 light mechs", they say... or you might encounter zero light mechs and get paid a quarter of a million for doing absolutely nothing. Jackpot!
This mission was only supposed to be for 95,000 credits, but my hand slipped on the contract screen and I found out that you could renegotiate the terms however you like. There doesn't seem to be any penalty for being greedy, so I stuck it at 9,999,000 credits and Davion offered to settle at triple the original mission reward. I didn't question it.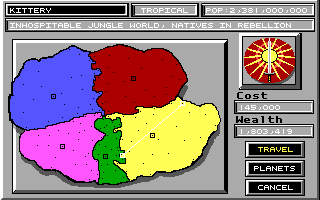 Here's a map of the Inner Sphere. It's the most colourful map of space since
Star Crusader
. With nothing better to do, I plot a course for Kittery, because it sort of sounds like a planet populated by kittens.
It's not. There's only one inhabitant of Kittery.
And here he is.
There's thirty worlds in Davion space, so I guess there's around a hundred worlds in total? You can get stuffed if you think I'm going to visit each of them just to have this one man tell me nothing of interest over and over.
I repair Jenner and do a couple more missions. I want to get my credits up a little higher before I go on an upgrading spree. I've been using Jenner's don't-require-ammo-but-produces-lots-of-heat quad lasers a lot, so I want to stick some more heat sinks on Jen so I don't have to worry about causing her to spontaneously burst into flames mid-battle.
A different person! Not a kitten. What a disappointment.
Another world, the same stuff. Completely flat landscape with a couple of triangular shapes representing mountains.
The blue enemy robots on this world are equipped with jump jets. At the start of every mission, all I see are a pair of polygon trousers silently rise up into the heavens and disappear. About a minute later, they descend like a robot pants angel and backpedal away from me, throwing a barrage of laser blasts and missiles at me.
GET OUT.
I think I'm getting the hang of the weapons, though I was having trouble at first. The game lets you put them into groups: If you've got a grouped weapon selected and armed, you'll automatically cycle to the next when you fire it. There's also a button to fire all grouped weapons simultaneously, which is why Mr. Pants here is now a puddle of smoking metal.
For some reason, the AWS (the game's cryptic name for weapon grouping) resets after every battle, which is annoying. God damn mech valets. I bet they've been stealing from the change tray too.
I've finally found a place that doesn't look the same as the place where I started!
Here's Hobbs. August, 3025.
Huh? I've been playing for OVER A YEAR?! I haven't done anything! I haven't upgraded my bot or found a parts shop, or anything!
Crikey, um, let's pick up the pace!
Interesting news on the computron: a bounty on the head of nefarious pirate Grig Griez. 200,000 credits!? Get outta town, I get paid that much for one mission! And that's before I charge triple at the last minute. If I smash his robot's face in, he'll almost certainly lead me to the Chalice, so there's no way around this. If he's the first boss, I'm going to make sure the Blazing Aces are prepared for anything.
First, I'm going to need a wingman. A few more identical missions later and I've finally got enough to buy a second mech! It's not the best, but it's got legs and a gun, so it'll work. Now to hit the bar and find a pilot.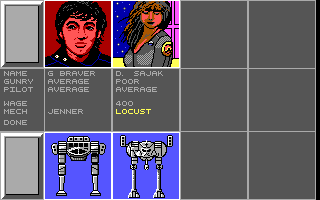 Take a look at the whole new roster of the Blazing Aces!
"HEARD YOU MIGHT BE LOOKING FOR A GOOD MECH PILOT. D IS FOR DESIRE. TELL ANYONE AND I'LL KILL YOU. YOU INTERESTED?"
Enter D. Sajak. She's got poor
GUNRY
skills, but she only wants 400 bananas. Or is that 400,000 bananas? Per mission? Every year? No way to know!
Time to test drive this duo of mech maniacs in a couple of freelance missions before going after the big bounty.
(Also, G. Braver is actually Paul McCartney. Side mission: gather the 31st century reincarnations of the Beatles and bore the enemy to death with a 48-hour long performance of Hey Jude.)
The 'Command' screen makes a little more sense with a wingman.
I'm the white dot in the lower right. Above me is Sajak. The red dot in the upper right is the enemy mech, and the blue dot is the facility we're assaulting. I can order Sajak to do 'stuff', but the 'stuff' I can pick from isn't very helpful. She's in a faster mech, so any order I come up with is going to result in her running off ahead of me. I don't really want her to assault the base by herself because she's in a weaker mech. There's no formation options, which is a silly oversight. The closest thing to a good plan I can come up with is to predict where the enemy mech will try to attack me, and time it so that Sajak appears at my side at the exact same instant.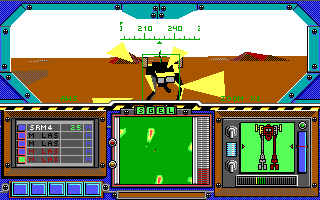 My lasers are down! I can't move! Those are not good triangles! The sky is flashing red! There's warning sirens flashing up all over the place!
SAJAK! GIDEON! DO SOMETHING!
Well, buggers. We didn't get him. We failed the mission.
On the plus side, Gideon is not dead!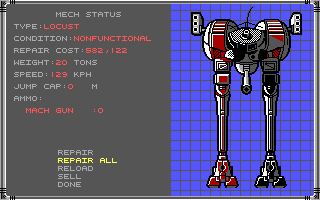 Sajak IS dead, so she won't be needing this any more.
It'll cost way more than I've got to fix Jenner, so the Locust is going to have to be the main mech for the foreseeable future. She's got a single Medium laser (Jenner had four) and an empty wang cannon.
Maybe I can earn enough money to go back to the first planet where the enemies will be easy enough to kill so I can grind enough money to make the Jenner useful again. Doesn't that sound fun?
Oh, that reminds me! I might not have enough money to upgrade the Locust with new parts, but maybe I can nick some of Jenner's bits and bobs and glue them to the working bot so I stand a partial chance. It's time to find the upgrade menu! And that is... where, exactly? Is there an upgrade menu?
There is no upgrade menu.
How do you make a game about robots and not have an upgrade menu? It's impossible! Don't tell me that the original BattleTech tabletop game didn't have customisable mechs! I don't believe that for a second! It probably had entire books about it. It probably had entire books dedicated to telling you how to read THOSE books!
Argh, I'm angry.
You can usurp my empire, ransack my fortune, beat me to an inch of my life, kill my wingman and cripple my Jenner, but it ends
here
!
You will NOT touch my giant sweeties!
Flippin' invincible moon-walking son of an ass!
The Locust is good at moving in straight lines. That's all it can do. I'd have more combat effectiveness if I came to the battle in a mashed up Ford Fiesta. At least I could put the bloody radio on then.
And the Locust is toast. But Gideon lives! Argh! What does it take to kill you, Gideon!?
I know, let's head right back to Ander's Moon and see what happens because I'm bored and I want this game to be over.
AT THE PORT YOU ARE RECOGNIZED ALMOST INSTANTLY AND ARE PIRCKED UP BY LOCAL POLICE WITHIN MINUTES. THE CHARGES AGAINST YOU AND YOUR FAMILY, PHONEY THOUGH THEY MAY BE, GO UNCHALLENGED IN COURT. HELPLESS IN PRISON, YOU ARE AN EASY TARGET FOR ASSASINS USING A PRISON RIOT AS COVER.
SUDDEN DEATH IS A GRIM REALITY IN THE SUCCESSOR STATES OF THE 31ST CENTURY.
Don't even get a picture! What a swizz. At least I know that you CAN lose, but apparently not in battle.
I looked up a walkthrough for the game around this point because I had no clue where to go next to continue the game. Do you know what it said?
"Sell your mech, you won't be needing it."
That's a curious thing to read about a game called
MechWarrior
, isn't it? Would the game even let me sell my only mech? How would I fight battles? What would happen if I got randomly attacked by enemies?
And that's the secret to
MechWarrior
: it's not actually about mechs at all! It's not a first person shooter, it's an adventure game! (Much like
The Clue
is a visual novel that moonlights as a burglary sim.)
Like a doofus, I'd forgotten about the news item offering the bounty on the criminal Grig Griez. I loaded an earlier save from when I still had a fully working Jenner and a crapload of cash and went to Galedon V to track down Griez, expecting my first boss battle against the nefarious pirate.
Huh?
The moment you press a key, this message disappears and there's no way to get it back. It took me several attempts to get this screenshot (and don't get me started on copying out all the stuff the engineer in the mech-bay said)!
Land's End is a planet you can visit, prospective players might want to know. They should highlight important things like that.
So let's say I went to Land's End...
It's The Same Barman again! Hi, friend!
And then I leave and re-enter the bar immediately because there's no time skip option or indeed any way of measuring
days
.
After a long interview... blah blah blah. Let's just skip over the entire 'tense conversation with the armed stranger' scene. Players don't want to have to mess with the tedious nuts and bolts of talking their way out of things!
"The player's party enters a bar. IT'S SCARY FOR THEM. But it's okay. Turn to page 50."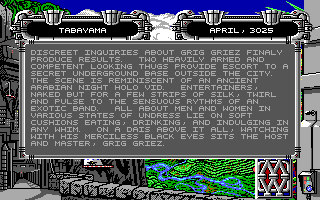 In fact, I might go so far as to say it's well and truly just
MegaTraveller 2
again. Walls of text at every turn. All the fun of reading a book, except you get to stare at an 80's CRT monitor while you do it.
I'm sure I'll be confronted with a some serious role-playing decisions soon. Or, if I'm really,
phenomenally
lucky, a mech fight.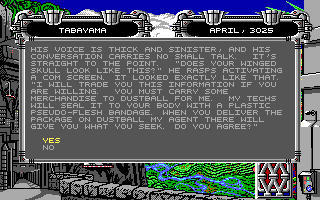 Press
NO
to instantly lose the game.
If you do, Grig just grumbles and says he's disappointed. And that's it. As far as I can tell the dialogue sequence just stops. You can't find Grig again and you have no alternative route.
So let's assume I say
YES
to the man who wants to implant me with a
PLASTIC PSEUDO-FLESH BANDAGE
...
BUT THEN...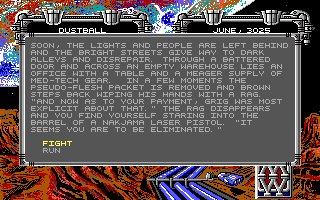 LET'S GO!
LET'S GO FURTHER!
AND SO...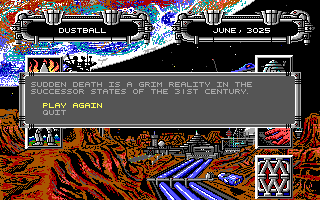 First person robot duelling shooter. Died in a cutscene. Crazy.
Did the developers intend on making this game half shooter, half adventure, but then decided they weren't too proud of the 3D shooter section and made all the robot fighting completely optional? Was it simply some other sci-fi game that got transmogrified into a
MechWarrior
game late in its development? Is 'MechWarrior the table-top game' actually about a guy visiting planets and getting shot at on foot over and over again?
Why bother being a mercenary at all? Get far enough in the plot and a character simply gives you several million credits in a cutscene just for being there.
In fact, I'm going to see how many of these dialogue screens it takes before the plot grabs a hold of my neck, yells 'NO MORE TALKING. FIGHT NOW.' and throws me into the cockpit of the Jenner.
And here we are. The first compulsory battle. And the last. Because this game has
exactly one plot battle
in it. If I win this battle, I win the entire game. I don't stand a chance sure, because I'm in the starting mech, alone.
I'm going to say there's around twenty-five full screens of text on the way here: go to planet, talk to dude, dude says to go
PLANET X
, go to another planet. There's less than a dozen dialogue choices. They're all very exciting and dramatic and, of course, picking the wrong choice results in
SUDDEN DEATH
.
If somebody was to do a speedrun of this game, I think it could be done in around three minutes. Two minutes to blitz through the dialogue screens, and one minute to run circles around the enemy mechs and trigger the Instant Surrender rule when a friendly mech collides with an enemy liquorice allsort.
Only having one correct route doesn't make for a very good role-playing game. If there's exactly one inflexible route, it's not a game, it's a book. But the way the story is presented is consistent with itself, which I guess I find satisfying. Gideon simply doesn't care about any of the other stuff that goes on in the Inner Sphere. You can either have him be a practical sort and investigate the things he's informed of, or you can have him wander about, wasting his money like an idiot.
It works on a role-playing game level (insofar as these 1989 sci-fi tabletop conversion games do), by displaying nice words on the screen that tell a story at a decent rate, and it works on a gameplay level as a player who has reached the end of the 'adventure' can then focus on assembling their crack team to take on the final boss. In that respect, it's a lot like a
Final Fantasy
superboss: there's nothing of any consequence to do in the world, but the boss is waiting there once you feel you're up to the challenge. And I'm extremely thankful there isn't any random encounters in this game.
A 1989 guy might feel a little short changed that their high-octane mech shooter with complex customisation options and deep RPG elements (
check the back of the box, tell me if I'm interpreting this wrong
(MobyGames link)) consists of
just one fight
, but 2013 me finds it hilarious. And the game is a good sport about it, letting you continue playing once you've reclaimed the Chalice.
I'm not that pleased that we don't get
pictures
of any of the adventure scenes, but what can you do. If we got to see our hero leaping behind cover, blasting space pirates with his auto-pistol and dodging aerial bombardment everywhere he goes, this game might have had to come on 3 disks instead of 2! You'd have to pay more!
Oh yeah, the game. The mech controls suck, but that's sort of the point. The combat is a bit like a game of conkers. There's supposedly some kind of knack to it, but it really comes down to whoever brings the best one and smacks the other one with it, wins. The fact that moving diagonally and strafing enemies was difficult and took some amount of planning was a fun novelty at first, but not being able to tell whether or not I was in effective combat range of my lasers dampened my enthusiasm.
Not being able to customise your mech is absolutely ridiculous. Not being able to tell what how well a shop mech will perform is frustrating. There's a chance that your current planet might not have the capability to repair specific parts of your mechs, so if you have a large squad and tackle dangerous missions, you're going to be flying all over just to get them repaired (and travelling costs more money the more mechs you have). The menus are awkward and I kept accidentally skipping critical text with no way to repeat it. I don't think there's any kind of 'danger' ranking for the planets in the Inner Sphere, so there's no way to identify the next area to hang around if you want to advance to more difficult enemies.
It's a crap game. But if it wasn't a crap game, it would have probably been pretty neat.
Next game.
---
If you like
MechWarrior
or BattleTech, leave a comment below! Especially if you know where the upgrade menu is.