I must have done something wrong in a previous life because I'm playing
Clive Barker's Nightbreed: The Interactive Movie
.
Ray played
Nightbreed: The Action Game
over a year ago and it definitely changed his life.
Nightbreed
is one of the very first games I can remember and they're not happy memories. The film's alright-ish; it's tense, exciting, bizarre stuff. If you haven't seen it yet, be warned. This game contains
spoilers
for the film!
I am Aaron Boone... the most 80s guy imaginable and owner of one of the coolest jackets in movie history. At the start of the film, Boone dreams of a maze of hidden catacombs populated by a gang of bizarre monsters. A place he calls 'Midian'. We don't get to see
these dreams
(YouTube link) recreated on the Amiga, which is just as well because the Amiga chipset would surely explode if it tried to recreate Danny Elfman's soundtrack.
Just like the film, the madness starts with a visit to Boone's psychiatrist, Dr. Decker.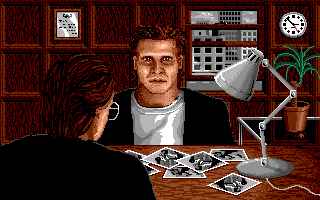 I HAVE BEEN TREATING YOU FOR THE PAST TWO YEARS. WITHIN THAT TIME I HAVE DIAGNOSED SCHIZOPHRENIA WITH PSYCHOTIC EPISODES.

I BELIEVE YOU ARE RESPONSIBLE FOR THE RECENT BRUTAL MURDERS THE EVIDENCE IS BEFORE ME. YOU ARE BEYOND HELP
Hmm. This Boone kind of looks like the real Craig Sheffer. Close enough.
GIVE YOURSELF UP TO THE POLICE WITHIN 24 HOURS OR I WILL BE FORCED TO INFORM THEM

YOU DECIDE TO SEEK PROFESSIONAL HELP AND HEAD OUT IN YOUR CAR TO THE NEARBY HOSPITAL
Huh? Aren't I getting professional help already? Aren't you my psychiatrist?
Well, okay. Mission one: find Boone a better psychiatrist.
Here's the map of Nightbreed-land.
I'm in the lower left, Midian is in the upper right. I don't know what's in the upper left and lower right, but one of them has to be the hospital. The other's probably a public place like a library or something like that. I'm sure nothing bad could happen if I end up there.
Now how do I get this car started? I remember having a lot of trouble at this point as a kid. It's possible that this is the furthest I ever got.
Move the cursor with the joystick and click on each road intersection in turn to move the car. Let's go up!
There's no music, only a loud BRUM sound effect when you move the car. The car doesn't even steer, it just slides across the road towards the destination.
Should I really be driving in my condition?
Oh. So the one up there's the police station. Well, my doctor will be pleased. I've turned myself in.
That was a really short game, wasn't it?
Hmm?
YOU ARE WOKEN BY MUMBLING AND SEE A CRAZED MAN TALKING OF A PLACE WHERE ALL SINS CAN BE FORGIVEN. A PLACE WHERE THE MAD AND CONDEMNED CAN BE AT PEACE. A PLACE CALLED MIDIAN
I dunno. I think my pal there is the one and only
John Romero
(external link).
IN YOUR HEART YOU KNOW YOU MUST GO THERE AND FORCE THIS MAN TO DIVULGE ITS LOCATION. LATER THAT NIGHT YOU ESCAPE.. STEAL A CAR.. AND HEAD FOR MIDIAN.
I'd have forced the guy to give me the information
first
and then gone there...
Oh! You mean I know I must go
THERE
, and knowing this I then force the man... right, right. That's some confusing grammar you've got there.
On my way to
THERE
, I'm stopped by a police roadblock! Oh no! What do I do?
No, really, what do I do? The buttons don't do anything. I thought I might have to click on the 'STOP' sign to turn back or click on the cop to ram the roadblock but neither of them work.
VROOM.
You have to
click the text
. Stupid.
Finally I've reached the entrance to Midian! It kinda looks like a
Shadow Of The Beast
theme park.
I can
LOOK AROUND
,
ENTER GRAVEYARD
or
ENTER MIDIAN
.
ENTER GRAVEYARD
sounds ominous. I get the feeling the game might take it literally, to the point where it simply pops up a box saying 'YOU ENTER THE GRAVEYARD AND YOU DIE'.
ENTER MIDIAN
is the entire reason I'm here. On entering Midian, I'm promised absolution from my sins and peace of mind for the rest of my days. Sounds like game-ending stuff, so let's go for
LOOK AROUND
. Once again, I have to click the text.
It's Dr. Decker And The Police! I love your music, guys.
DECKER SPEAKS
'YOU MUST DIE BOONE'
'WHY?' YOU ASK
DECKER SMILES
'BECAUSE YOU'RE A MURDERER'
YOU REPLY
'NO I DIDN'T DO IT!'
DECKER GRINS
'I KNOW, MY MASK AND I
KILLED THEM AND NOW
IT'S YOUR TURN!'

DECKER SHOUTS
'HE'S GOT A GUN!'
AND DROPS TO THE
GROUND
mecha-neko says
'There are
fewer things easier to read
than all-caps
monospaced text
in bright orange overlapping dialogue
boxes where
the lines are all different lengths
and there are
two characters
talking.'
I don't get a chance to respond before the cops open fire and fill the screen full of holes. And then something even worse, an INSERT DISK 2 prompt.
I don't wanna. If I do that, they'll just shoot me some more!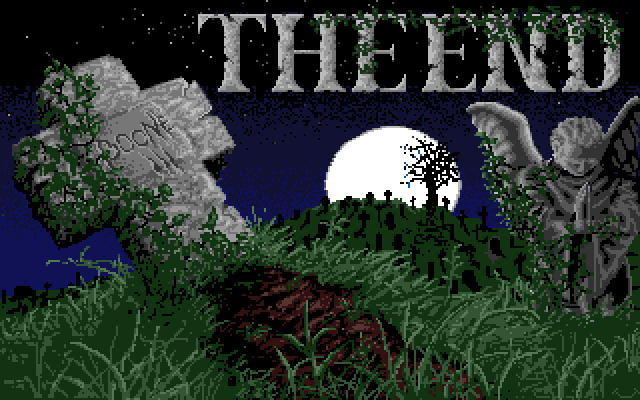 WITHOUT YOU THE NIGHTBREED WERE DOOMED AND WIPED OFF THE FACE OF THE EARTH
Hey, screw you, buddy! I just
saved
the Nightbreed!
If I remember correctly, the Nightbreed were pissed at Boone for leading the mob to Midian in the first place. The mob won't find Midian if Boone never leads them to it!
Okay, try again from the start. Yada yada, need professional help.
This time I'll go straight for Midian.
I run out of fuel!
I started ramming all the roadblocks and the consequences started piling up. First, they shot my gas tank. Then my tires. Even though the car was scraping along the screen at two pixels a second, I was sure I was going to make it.
Thanks to my recklessness, Boone has no choice but to abandon the car at the end of the road leading to the graveyard and spend several days living rough as a fugitive.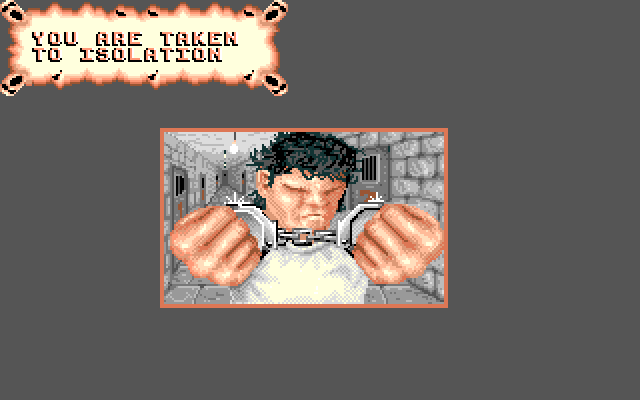 Oh well. Game over.
LATER THAT NIGHT YOU MAKE AN INGENIOUS ESCAPE
...entirely off-screen. I'm sure it was really exciting though.
I'm back on the map. Off to Midian we go!
Now I know that
LOOK AROUND
is out of bounds. I'll try
ENTER GRAVEYARD
.
FROM THE DARKNESS TWO CREATURES APPEAR ONE OF THEM SHOUTS

YOU ARE NOT BREED YOU ARE MEAT!
Called it!
PELOQUIN LUNGES FORWARD SINKING HIS TEETH INTO YOUR NECK. YOU RECOIL WITH PAIN AND REALISE YOU MUST RUN FOR YOUR LIFE OR BE EATEN!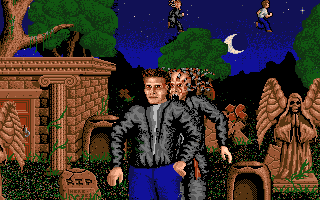 RUN BOONE! Argh, what do I do?
Waggle the joystick? Press the fire button? Click the mouse? WHAT?
This is exactly how crappy it looks in-game, by the way.
Excellent, I'm dead!
I want to stop playing, but I can't stop until I get into Midian. It's...
right... there
. I just can't figure out how to get them to let me in!
What a stroke of luck!
I found a gas station just when I was going to run out of fuel before getting to Midian!
This world map section sort of reminds me of a board game. Roll the dice, dat-dat-dat, pick up a card. Oh, I can buy Gas! Yes or no!
Yes, I know that. That would be the graveyard I would like to enter.
AAAAARGH. The game won't let me go anywhere near the graveyard until I've done the other cutscenes first!
Blurgh.
Crashing my car brought me to the asylum anyway, so I talked to the crazy guy again and went to Midian.
HEY LOOK I'M HERE AGAIN.
I managed
ENTER GRAVEYARD
and outrun the monster this time. You know what happened? NOTHING. The screen went black and I was outside again. Going into the graveyard again made me play the minigame a second time.
I think I've proved my worth against the tentacle-dreadlocks dude. Let's go into the catacombs of Midian for real.
Oh. That's... simple as that then. Game over.
Let's not go in there.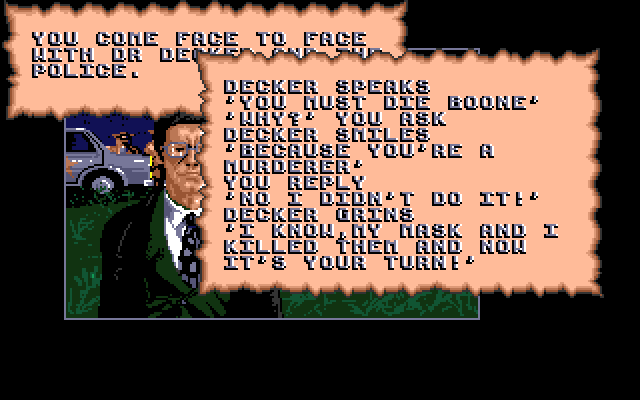 What's left?
Going to the asylum twice in a row leads to nothing good and if I try to
LOOK AROUND
Decker shows up and kills me with his wall of text. I'm completely out of ideas.
BUT THEN.
YOUR LIFELESS BODY IS TAKEN TO THE MORTUARY.....
That bloody tentacle bloke has turned me immortal!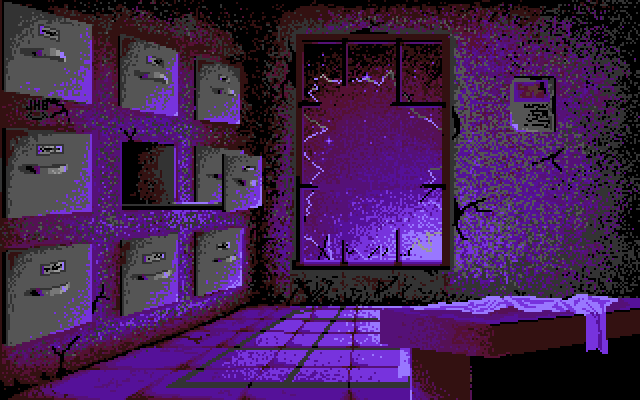 Boone disappears in a flash.
You can totally see where the artist has tried to manually re-draw the background gradient where the bars used to be. They almost got away with it too, shame they forgot the shadow.
I'm immortal now. Could you PRETTY PLEASE let me into Midian?
What?
I wasn't trying to flee Midian, I was trying to enter it!
And who's Lori? What's The Mask got to do with it? Who are the Sons of the Free? Why have I suddenly become Jeremy Clarkson?
What's going on!?
Oh, I'm mad alright.
RESTART.
I drive across the map. Get caught. Go to the asylum. Break out. Drive to the graveyard. Race against the guy. Get shot. Wake up. Escape. Drive to the graveyard AGAIN.
NOW WHAT.
ENTER GRAVEYARD
puts me against Tentacle Terry.
ENTER MIDIAN
makes me 'overcome with remorse' (we're WAY past that point, by the way). And finally,
LOOK AROUND
, where Decker is hiding with the cops.
What's the worst that could happen? Is he going to kill me again?
It's the real serial killer! And he's wearing that mask from
the Speccy title screen
!
He's throwing an endless series of knives at the camera. I can slowly move Boone's head around with the joystick. As long as he doesn't take a knife directly to the eye, I think I can survive this.
Take that Lori! I have no idea who you are, but I'VE GOT YOU NOW.
Lori is Boone's girlfriend in the film, if you've gotta know. For some reason, she's never on-screen in this game and this is the first time she's been mentioned in the text. You might think that's confusing. That's because IT IS.
Nevermind. I'm in Midian at long last! It's all falling into place.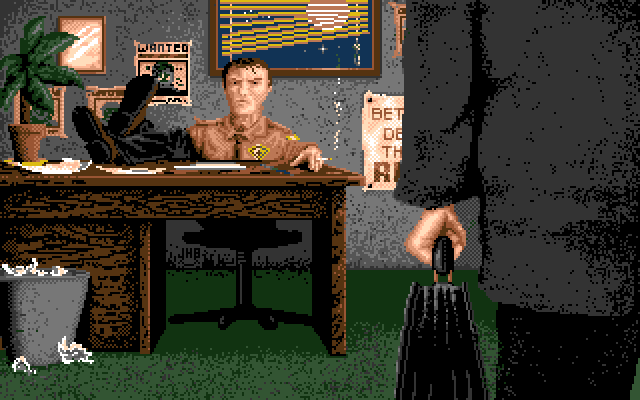 DR. DECKER TELLS OF DEMONIC CREATURES LIVING BELOW THE GRAVEYARD.
And it's Dr. Decker's job to deal with disturbed minds for a living. I'm sure we can trust him implicitly.
These guys are clearly prejudiced against the Midianites. It's totally outrageous and I won't stand for it. The Midianites have done nothing wrong... if you ignore their berserkers who instantly tear you limb from limb when you approach and Tentacle Terry who EATS PEOPLE.
So, if you discount ALL the Midianites we've actually seen, they're completely innocent.
Hello, Lylesburg.
YOU ASK 'WHY AM I DRAWN TO THIS PLACE, WHY AM I STILL ALIVE?'
LYLESBURG EXPLAINS...

'BY BEING BITTEN YOU HAVE BECOME ONE OF THE BREED, AN IMMORTAL RACE OLDER THAN MAN, PERSECUTED BY HUMANS WHO ALWAYS DESTROY WHAT THEY DO NOT UNDERSTAND.'
I thought you said Lylesburg was going to
explain
.
LYLESBURG SHOWS YOU INTO THE UNDERGROUND MIDIAN COMPLEX
So... Lylesburg? Now what?
I made it to Midian, but I'm not feeling very peaceful or absolvy. In fact, I'm pretty cheesed off! All my efforts seem to have led me into a crappy
Dungeon Master
knock-off.
I can walk and turn using those buttons next to the compass in the top left. There's 'Run' and 'Fight' buttons which I assume are used in random encounters. Every time I change cell, a very loud footsteps sample plays and a new game window appears partially obscuring the last one.
That thing up there isn't actually a compass at all. You can tell what direction you're facing by the colour of the latest window,
I think
. It may be random.
Yikes! Click a button! Any button!
Well, I didn't click a button in time.
I ended up in a stupid mini game where I had to duck underneath these weird monsters as they drifted across the screen. Boone automatically stands up after a second when you dodge, just like
Punch Out
, so I got bit.
Sadly, I'm able to continue.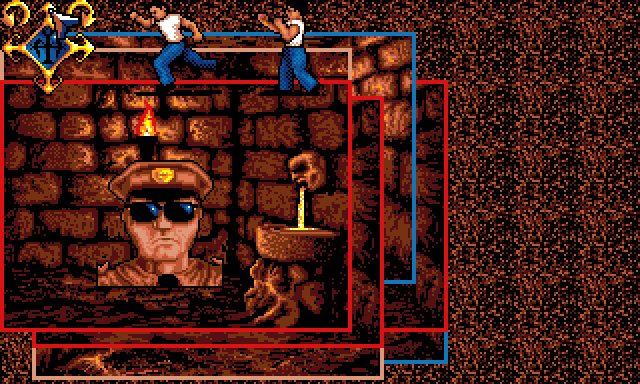 It's a floating cop bust, just like those awful talking heads
MegaTraveller 2
!
Let's fight!
THE 'SON OF THE FREE' IS ASTONISHED TO SEE HIS BULLETS HAVE NO EFFECT!
Why would he be astonished? They shot me once. It didn't work.
Wait. The Sons of the Free still don't think the Midianites are demons? Decker mentioned demonic creatures living underneath a graveyard and the Sheriff actually thought he was talking about COMMIES?!
Everybody here's mental!
I showed that guy who's boss!
The fighting controls weren't so bad. I could punch, kick, block, jump and all the rest. It's the first time one of the arcade sequences has played fair so far.
I'm just wandering around randomly now. I don't have a hope of getting anywhere in the game properly. Lylesburg locked me in the basement without giving me any sort of hint as to what I should be doing.
YOU NOTICE THE RED DOT OF A LASER SIGHT AND MUST DODGE TO AVOID IT
Uh oh!
Look at it. Just LOOK AT IT.
This minigame lasts over a minute, in complete silence. If the light hits his forehead, game over.
Yup. That's pretty much what playing
Nightbreed
does to ya.
Nightbreed
. It's a bunch of shitty minigames held together with string.
Violations of the game's narrative are punished by death, and death means repeating the entire game up to that point. Of course, the player has no idea what the narrative is. You're stuck even if you've seen Nightbreed, because the game doesn't follow the film exactly.
The graphics definitely stand up, for a 16-colour film license. You can tell where you are and who the characters are supposed to be, and that's good enough for me.
Switching between mouse and joystick control in the sub-games is frustrating. The first time you encounter each of them, you've gotta scramble through all the controls trying to find a combination that has any effect. In the DOS version, the directions are Z, X, the @ symbol and full-stop.
Speaking of the DOS version, how does it look?
MS-DOS
Yikes.
(It has CGA, EGA and VGA modes, so it really looks exactly the same as the Amiga version if your computer is up to it.)
You had no reason to play
Nightbreed
before. I've shown it to you. Now you've got even less reason to play it. DON'T PLAY IT.