It's time for
The Terminator: Rampage
! Or, as my hard drive calls it:
Trampage
.
Better hold on tight, because here comes the intro!
THE RESISTANCE BELIEVED THE HOLOCAUST ENDED WITH THE DESTRUCTION OF THE SKYNET CENTRAL COMMAND.
Let's hope that Skynet didn't make a backup of itself or build a spare Central Command or anything like that.
THEY WERE WRONG...
NO WAY.
Just before being blown up by Sargeant Yourname at the end of
The Terminator 2029
, Skynet shoved a copy of itself into a T-800 and sent it back to 1984. Which is
cheating
.
UNDER COVER OF DARKNESS AND SECREY THE LONG META-NODE UNIT TRIANGULATED ITS POSITION, THEN BEGAN THE LONG TREK TO CYBERDYNE IN THE CHEYENNE MOUNTAINS.
INFILTRATING THE BASE WAS A SIMPLE MATTER. UNOBSERVED, THE META-NODE BEGAN ITS SLOW TAKEOVER OF CYBERDYNE LABORATORIES. THE BATTLE WAS OVER BEFORE THE HUMANS EVEN KNEW THEY WERE UNDER ATTACK.
Unobserved? What, did the Meta-Node borrow somebody else's arm?
In this new timeline, papa Skynet sneaks into wee Skynet's bedroom in Cheyenne Mountain and reads it fairy-tales of how awful the humans are. The new Skynet takes control of the United States' nuclear arsenal years earlier than last time and aims the whole lot straight at Sarah Connor's nigh-indestructible mug.
Back in 2029, Connor and company were saved the resulting space-time super-shuckle as they were busy having a breakdancing competition inside the Time Displacement Device. When they turned off the boom-box and looked out the window, they were a little pissed to find that the almost-extinction-of-the-human-race which they had grown to know and love had been replaced with an absolute-extinction-of-the-human-race which was nowhere near as fun.
They moped around for a couple of hours before some bright spark realised that if they stopped using the time machine as a cup holder for a couple of minutes, they could use it to, y'know, send somebody back in time and stop the Meta-Node.
My mission is to return to 1984 and destroy the Meta-Node before it has a chance to level-up the wee Skynet which, at this point, is a command-line fortune cookie program.
Here's the punchline. This is 1988. The Resistance
missed
. Everybody in Cheyenne Mountain is dead and the Meta-Node is in complete control.
Shouldn't have been using the TDD as a cup holder, guys.
YOU HAVE BEEN SENT BACK TO DESTROY THE META-NODE. YOU ARE MAN'S LAST HOPE.
With no pants?!
Of course not, don't be silly. Our amazing hero was chronoported directly into the Cyberdyne facility, into a small storage room where the very first prototype of the A.C.E. Battle Armor was waiting for him! There's one problem: without a team of Resistance doctors on hand to connect the suit to his nervous system, the super pants won't actually
do
anything this time. No shields, no auto-repair, no medi-comp, and no phased plasma. The hero's plan is to just wear it anyway and hope that it's better than being naked.
That's the entire plan.
I'm not here to collect the missing pieces of the suit to soup it up, or find a scientist to install the brain damage inducing neuro-link stuff for me. I'm going to be scraping tracks across the floor in a set of impossibly heavy un-powered powered armour.
According to the manual (and there's no mention of this in the game whatsoever, so I'm glad I looked), I need to find a prototype of the first Phased Plasma Cannon, the V-TEC PPC (sounds like a kid's toy). Somewhere in the Mysterious Cyberdyne Labyrinth lie the 14 pieces of this mega-gun which, when combined, will bestow upon me FANTASTIC POWER enough to destroy the Meta-Node.
The only advantage I have is that Skynet and sons won't be able to make T-800-level Terminators using 1988 technology (or so I'm told). I'd have thought that in four years they'd have come up with some workable substitutes.
No voices or animated portraits in this game. What a swizz.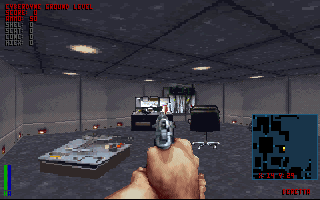 They've kept one good thing from
2029
, I have an on-screen map! And, even though I'm trapped inside a metal coffin, I can turn a full 360 degrees unlike my
2029
counterpart. It's just like
Corridor 7
, except one year earlier and less purple!
With these undefinable controls I'll be lucky to get a shot off because I can't bloody strafe.
Egad! Exploding spheres! Damn it, what a lousy start. These things aren't even that fast, but they explode on contact.
I need to use a bit more caution when opening doors.
Skynet's second line of defense is super mini HKs! It looks huge, but it's actually really small. It can't be more than a foot across.
This room appears to be some kind of underground artificial woodland. Strange,
but not unheard of
.
Oooh, alert music. That's pretty novel. Nice one.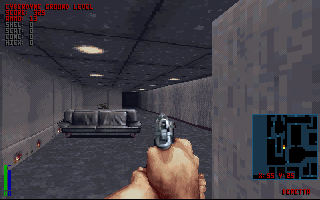 This isn't right. I don't like the way the furniture turns to face me.
This thing is fucking
Herbie
in couch form.
Spheres and Skimmers, is this all you've got, Skynet?
If all the Meta-Node can muster up is an army of expensive office toys, I might make it after all.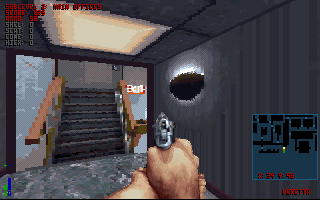 At first I thought it was a gate or a conveyor belt, but this painting of a staircase leads to the next level. It's not an optical illusion, it's an optical malfunction.
There's no V-TEC pieces on the ground level according to my magic cyber-senses, so I'm free to advance.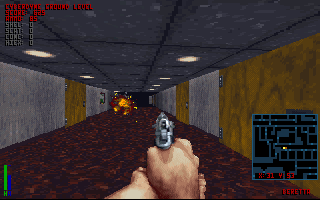 Wow, these Skimmers really are made of paper. Two bullets and they're a wreck. I think the Meta-Node is making the gliders out of office stationery.
The map is showing... nothing at all. Nothing for miles and miles.
I'm starting to feel a bit sorry for Skynet. Four years of being stuck in Cheyenne Mountain and this is all it has to show for it. I wouldn't want to be trapped in this grim looking mess for four years.
Here's a spirited looking chap. I thought that the Meta-Node had killed everyone! It's nice to have some company at last. Maybe I can ask him where the V-TEC piece is!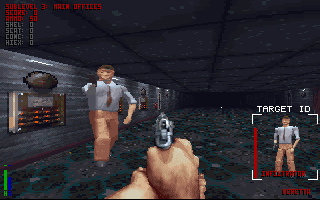 Oh right, he's an Infiltrator Terminator. Duh. In the four years since the Meta-Node arrived, Skynet hasn't been able to figure out how to make gliders that can withstand small arms fire, but it can make god-damned
Snatchers
.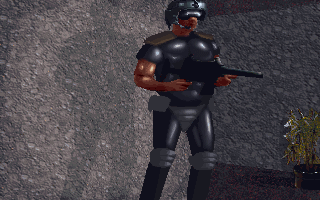 They can't make games, but Bethesda sure knows how to make a Game Over screen.
And speaking of dead people, where's all the dead people? I thought there was going to be a massacre in here! Did Skynet just
fire everyone
?
The staircases are highlighted on the map, but... I can't believe this. The objectives aren't highlighted on the map in any way. There's not even 'you might be interested in this thing but it's probably not a V-TEC piece' markers. These levels are at least four times as big as the ones in
Corridor 7
!
Give me something to work with here!
Rammy Rampage is a weak protagonist so I assume I'm meant to hide from the enemies, but I've got no means of doing that. The gliders, the infiltrators and the spheres have 360 degree vision and their bullets are infinitely fast. Even if I run past them, they always hit me perfectly every time. I can't see where the enemies are through walls, so opening any door is simply inviting the enemies to shoot me in the back.
And where's the ammo or health pickups? Apart from the ammo in the starting room, all I've found is one pistol clip in the ladies' of all places! I'm trying to shoot the enemies as cautiously as I can, but there's just not enough ammo. And the baddies respawn!
(AMMO "AQUIRED" as well. Jeez.)
Do you see that red thing on the left, around the corner? That's the first V-TEC piece, "#12, Power Couplings".
If you want to know where it is (in case you want to play
Trampage
yourself) you can find #12 in the unmarked grey room down the long corridor around from the grey corridor. Just follow the signs that aren't there.
I'm going to run out of ammo again (and patience) if I keep this up. I'm going to run for it.
And that's not going to work because the V-TEC pieces aren't highlighted on the map. It really is a great big stonking wrench that ruins the entire game. There's no clues whatsoever. You can tell when a piece is on the same level as you, but that's all. I don't want to search every room, they're all the damned same! The game doesn't bother locking any of the doors, so there's no telling which rooms are important and which are not. There aren't even medikits, ammo, health, things to read or things to shoot in them. They're all just empty rooms designed for the sole purpose of pissing me off.
Bethesda have designed a game that nobody in their right mind would want to play. You can't distract the enemies, you can't avoid the enemies, you can't manipulate the environment, you haven't got enough ammo to shoot anything and you can barely move.
And the game itself runs like a pile of steaming steg.
Sod it. Let that Game Over sequence run!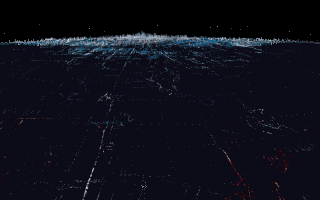 A different nuclear apocalypse every month in mecha-neko's FPS Friday!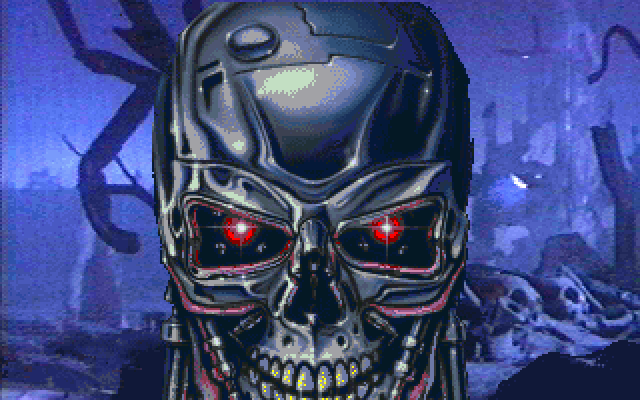 So far all these
Terminator
games have been big bland worlds full of tedious nothing!
That's so unlike Bethesda.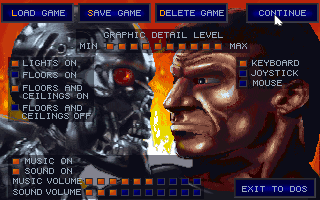 I tried my best at mucking about with the game files to find an image of this bizarre, half-drawn, half-rendered, half-assed, slightly
Rex Blade
-y options screen without the words on it for you, but I'm convinced that they've been drawn directly on to it. (The Save Game button
doesn't do anything
on this menu for example.)
Next time on FPS Friday,
The Terminator: Future Shock
, for real. If it works. Unless the world ends first.